The SoupMobile Dream Team
The SoupMobile is making a real difference in the lives of the ones Jesus calls the 'least of these.'
As such we serve more than 250,000 meals per year to the homeless in the Dallas area.
We also house the homeless in our shelter program. And every Christmas we give 500 homeless men, women and children
the most magical Christmas of their lives when we put them up for Christmas at the
spectacular downtown Dallas Omni Hotel. Most recently, on November 1, 2015 we opened the doors
to SoupMobile Church. It's the 'home' church for the homeless in Dallas, Texas. SoupMobile Church is a laser-like
focused on bringing Christ to the homeless.
As the Executive Director of the SoupMobile since 2003, I am
reminded every day that 'Good Works Don't come free'. No matter how you slice the cake it takes
real dollars & cents to feed and shelter' the homeless. We want you to know that
the SoupMobile does not receive (nor do we ask for) any City, State or Federal funding.
We are based on the old fashioned church modeled during the time Jesus walked the earth.
We depend on regular people like you to help fund our mission of 'Feeding His Sheep'.
It only costs $5 per month to be a member of the SoupMobile Dream Team. Yes, that's it—only $5 per month.
You might think your $5 per month isn't enough to make a difference but when added to the donations of thousands of other
Dream Team members your $5 can and will make a lifesaving difference in the life of a homeless person.
And as our way of saying thank you when you join the Dream Team, all new members will receive a special
SoupMobile Commemorative Coin weighing in at an impressive 55 grams.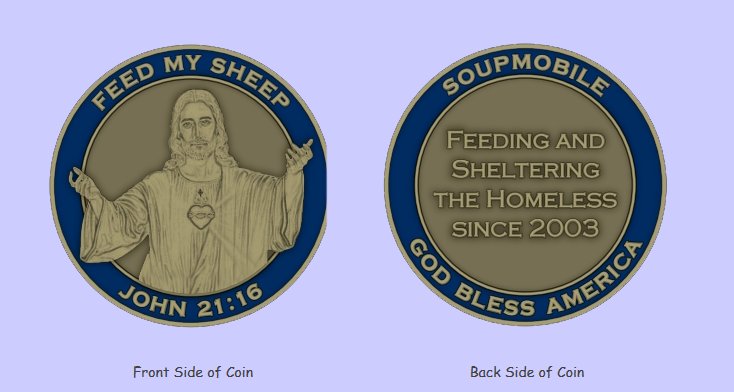 At the SoupMobile we get it that not everybody can write out a check for $100, $500, $1,000 or more,
but for most people $5 per month is a reasonable number. 2,000 years ago Jesus said to

'Feed My Sheep.'


Your $5 per month Dream Team membership will help us do that very thing.
Want to make a larger monthly recurring donation?
If so, enter the amount here
Please note that all donations are tax deductible.

May the Lord Bless & Keep You & Yours.
David Timothy, a.k.a. SoupMan
Executive Director & Founder––SoupMobile Inc
2423 S. Good Latimer
Dallas, Texas 75215
Phone: 214-655-6396
Website: www.soupmobile.org
E- Mail: david@soupmobile.org or davidtimothy@aol.com

SoupMobile Motto: Only a life lived for others is a life worthwhile!