SoupMobile Thrift Store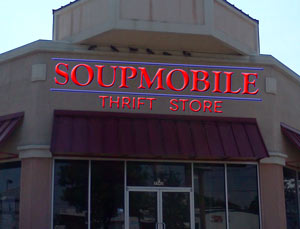 2,000 years ago Jesus said "Feed My Sheep." Was he thinking of a Thrift Store when he said that?
We have no way of knowing for sure, but that's exactly what the SoupMobile is doing. We are going to use our Thrift Store to 'Feed HIS Sheep.' All proceeds from the store support our mission of 'Feeding and Sheltering' the homeless. The store will also allow the SoupMobile to provide jobs to residents of SoupMobile Village and homeless people looking for employment opportunities.
The SoupMobile Thrift Store features high quality items at low, low prices. Come find a great deal while also supporting a great cause.
The SoupMobile Thrift Store also needs your household items for resale in our store.
For smaller items that you can fit in your vehicle, We accept donations Thursday thru Saturday from 10AM to 3PM. Please drop off at SoupMobile Thrift Store - 5542 Maple Ave Dallas, Texas 75235. No appointment needed. Just come by with your items.
Remember all donations are TAX DEDUCTIBLE.
The Thrift Store is located in a shopping center at the corner of Maple and Inwood (right behind the RaceTrac Gas Station) just south of Dallas Love Field Airport. The Thrift Store is easily accessible from virtually all points in the Dallas/Fort Worth area. Parking is available in the shopping center parking lot at the store.
SoupMobile Thrift Store
5542 Maple Ave.
Dallas, TX 75235
Phone: 214-951-6277
Hours: Currenly Closed
.